Christmas Holidays at Versailles Grand Parc
Christmas in Versailles Grand Parc, it's magical! Discover our festive programme of 2022, between French Gastronomy, well-being and much more
We have found various indoor and outdoor activities to entertain young and old alike, depending on your wishes and the vagaries of the weather (or the winter chill).
Taste the culinary know-how of Versailles Grand Parc...
Do you have a sweet tooth? At Pierre & Tim's you will find in the shop and on the website a box of 5 festive cookies including: a tasty milk chocolate cookie, a pink praline cookie, a salted butter cookie, a dark chocolate cookie, and a three chocolate cookie... The favourite flavours to offer to your cookie addicts!
At Angelina, the holidays are reinvented each year for unforgettable moments of indulgence. This year, the chef Christophe Appert offers you a signature log "Ebène" as well as three creations.
The "Ebène" log is a delight for chocolate lovers. Priced at €89, for a group of 8 to 10 people, it combines a return to childhood with a warm Christmas.
The Mont Blanc log at €59, made for a group of 6 to 8 people, features chestnut cream vermicelli, a light chantilly, and chestnut glaze for a gourmet highlight.
A pistachio version will also be available "La bûche Mont-Blanc Pistache" for 67 € for a group of 6 to 8 people, with a pistachio chestnut cream and a pistachio insert and chips.
A creation that will awaken your taste buds at the price of 69 € for a group of 6 to 8 people is the "Hibiscus Lime Log", made with a vanilla ganache, a lime mousse and a hibiscus cream.
In the heart of the restaurant "le chapeau 1874", offering a fine traditional cuisine, a Christmas dinner menu is proposed including champagne and amuse-bouche.
To book your table
click here.
Le boeuf à la mode, a favourite restaurant of Versailles residents and a bistro from the 1930s, is offering a special menu at €70, excluding drinks, on 31 December. The service will take place first at 19:00 and then at 21:00 to welcome you to taste the special menu.
To access the menu
click here.
This is the period when the Versailles park of the Trianon Palace puts on its winter clothes and gives way to gourmandise. Several tasting options will be proposed according to the desire and the moment, throughout the month of December.
To celebrate the end of the year 2022, what could be better than a large choice of seafood and some Champagne bubbles...
A menu will be proposed on Saturday 24th December, in the restaurant "La Véranda" or "Gordon Ramsay" at the Trianon, bright and chic settings to celebrate Christmas Eve in the best way.
On Saturday 31 December, a menu will be proposed for New Year's Eve at the Veranda.
A Christmas origami, priced at 84 € for 6 to 8 portions to order, and available on the spot in individual version for 16 € per person. It is a crunchy, crispy, creamy and frothy cake, covered with a thin shell of Peruvian milk chocolate with an interior of creamy milk chocolate mousse.
By the fire, Pastry Chef Eddie Benghanem and his team offer a Tea Time Express where you can enjoy a hot drink and a trio of sweet creations for €36.
Finally, to celebrate the end-of-year celebrations in a magical setting, the hotel offers several festive offers! The Christmas offer allows you to share an unforgettable moment with your family in the intimacy of one of the Suites of the Versailles establishment. The offer includes the tree in the suite, decorated or to be decorated by the family. The New Year's offer allows you to close the year in style with a dinner with food and wine pairing at the Gordon Ramsay restaurant at the Trianon or at the Veranda, followed by a "Années Folles" dance party.
To access the detailed programme
click here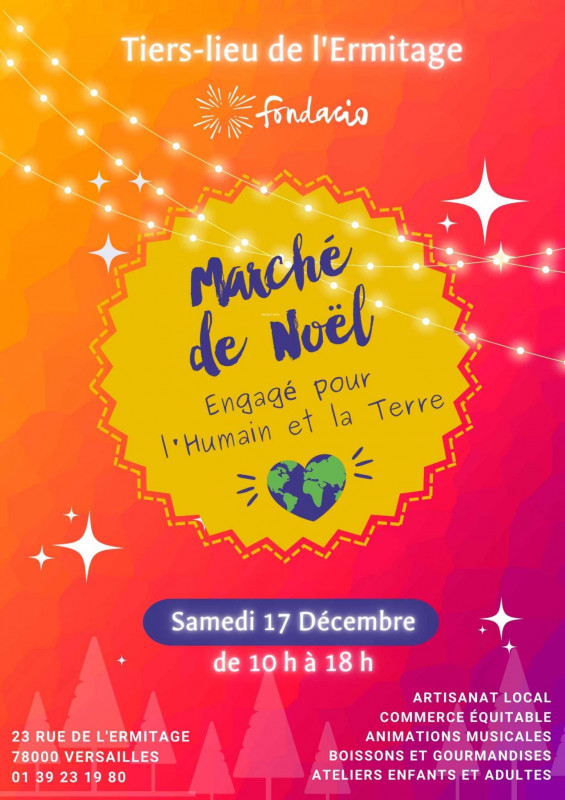 Discover French know-how and craftsmanship...
On Saturday 17 December at the Maison de l'Ermitage, now the Tiers-lieu de l'Ermitage, a Christmas market committed to the Human and the Earth from 10:00 to 18:00 in Versailles. This Christmas market will showcase the talents of various craftsmen with chocolate makers, jewellers and designers in a musical spirit that your children will love.
Discover this winter, the virtual catalogue of the Capsulemarket shop in order to fill your family and friends with Christmas gifts! This virtual catalogue, gathers all the different designers through many creative objects such as jewels, gift cards, reading books and many others...
Find the virtual catalogue
by clicking here
Take care of yourself, in this cool winter / winter season ...
For the festive season, Corinne Raimbault's salon wishes to take care of your beauty ! Exceptional openings will be on December 24th and 31st from 9:00 to 16:00.
The salon is offering new gift sets for the festive season:
Colour Protection at €55
For Cold Days at €60
Frizz Control €40
Homme at € 45
Long Hair €48
​Volume €49
Exceptional openings will take place on December 24th and 31st from 9:00 am to 4:00 pm. To buy the different boxes, go to Corinne Raimbault's salon located at 8 Place Charost, in Versailles.
I'm having fun with my family...
For the period from 16 to 31 December, Trip'in Trott & Trip'in Versailles is offering a Christmas holiday discovery offer to discover its "Plaine de Versailles" tour at the unique rate of €50 for 2 hours. From 4 people, come and discover this nature walk which will make you "trott" on the hunting grounds of King Louis XIV, discover the wash house of Rennemoulin, starting from the village of Rocquencourt. To make your reservation
click here
A day of discovery of the CMBV on Saturday 17 December, a good start to the school holidays!
On Saturday 17 December, the Hôtel des Menus-Plaisirs opens its doors for the last time this year! On your own, with your family or with friends, plunge into the heart of 17th and 18th century French history and French Baroque music by signing up for guided tours, a treasure hunt and/or a music listening workshop.
In pursuit of lost time, a treasure hunt in the heart of the Hôtel des Menus-Plaisirs:
Weird, weird... What's going on at 22 avenue de Paris? A mysterious curse has befallen the CMBV - the Centre de Musique Baroque de Versailles. It all started during a choir rehearsal last night, at nightfall... A sudden flash of lightning illuminated the rehearsal room, and since then, the place seems to have gone back in time! You can hear horses' steps on the cobblestones of the courtyard... You will have to use your senses and your insight to put an end to this curse! The whole CMBV is counting on you!
This tour, led by CMBV staff, will allow you to discover this historic place, emblematic of French history, and to understand its function and its place in the political, social and artistic spheres from the 18th century to the present day!
A music listening workshop is offered, thanks to this initiation workshop, baroque music will no longer hold any secrets for you! Go alone or with your family to discover famous composers and works, hear and admire the instruments and costumes of the period... and be surprised by the link with some of today's artistic forms.
To book your tickets,
click here.
There are still a few places left! For more information and reservations, check this link right here.
With Paris Duck Tour, which is part of the slow tourism: with its small size, it is considered as a "small boat". This small boat offers you 3 experiences in 1: a tour in a hybrid minibus, a boat tour and a guided & commented tour. In the same Hybrid Minibus the tour will go from the Château de Versailles to the Pont des Arts in Paris. In this winter period, Paris Duck offers you gift vouchers from 49,90 € per person. Itinerary: Château de Versailles - Descent through the Parc de St Cloud - Sèvres (Launching on the Seine, 50 mins of navigation) - Eiffel Tower, Pont Alexandre III, Louvre... Drop off at the Pont des Arts, a unique and unusual experience to discover the most beautiful monuments with commentary
To make your reservation,
click here
Château de Versailles Spectacles
is organising numerous shows and events during the
Christmas holidays
!
Let yourself be carried away by the enchantment of Mozart's
The Magic Flute
, entirely sung in French, a rarity! The staging by Cécile Roussat and Julien Lubek gives a new family-friendly and playful version of the work. Hervé Niquet, at the helm of his Concert Spirituel, pays tribute to Mozart's music.
This 31st December, the Château de Versailles promises you an unforgettable New Year's Eve with an exceptional performance that will conclude with a
fireworks display from the Hall of Mirrors
. Click
here to book your tickets.
Sessions on Tuesday 27, Wednesday 28, Friday 30 at 7pm, Saturday 31 December at 8pm and Sunday 1 January at 5pm
Not to be missed!
A family show at the Château de Versailles.
For the festive season, plunge into the baroque atmosphere of the Château de Versailles and let yourself be guided by actors, musicians, fencers, magicians and the dancers of the Royal Opera Ballet, from the Grand Apartments to the Hall of Mirrors, illuminated by fireworks!
To conclude this magical moment, meet Father Christmas in the Galerie des Batailles!
From 10 December 2022 to 1 January 2023
Sessions: 6.00 pm, 6.25 pm, 6.50 pm, 7.15 pm, 7.40 pm, 8.05 pm
To book it's here!
Click here
for the full programme of Château Versailles Spectacles.
The Tourism and Convention Bureau of Versailles Grand Parc wishes you a very Happy Holiday Season!
Published on Monday December 19, 2022 at 11:50