Where to drink the Beaujolais Nouveau in Versailles?
Fans of wine and French traditions, you can't escape the tasting of the Beaujolais Nouveau * in Versailles on November 21st. If you want to taste it or even buy some bottles here are the places I recommend in Versailles :
Les Badauds
is a bar where you will feel quickly at ease. You will be able to taste the
Beaujolais Nouveau
of this year as a special tasting evening is planned. At Les Badauds you will find several wines from independent winegrowers and if you come there to stay with your friends but Beaujolais is not your thing, you can always order a good beer from local micro-breweries ! And all of this around a plate of charcuterie and cheese.
Where ?
1 avenue de Saint-Cloud
When ?
Every day except Monday from 5:30 pm to 02 am
This
bar with a nice atmosphere
will brighten up your evening on Thursday night. Beyond the typical evening organized in honor of the Beaujolais Nouveau, you can enjoy the friendly atmosphere of this bar around a plate of tapas concoted with products from the Basque Country. Do not hesitate to open the menu of this bar which offers more than thirty wines, champagnes, crémants and beers. See you at l'
Equilibre
from 5 pm !
Where ?
8 rue des Deux Portes
When ?
Tuesday/Wednesday/Sunday from 5 pm - Midnight
Thursday/Friday/Saturday from 5 pm to 1 am
Happy hours every day from 5 pm to 8 pm
Will this year the Beaujolais Nouveau have a taste of cherry or red berries ? No idea ! But it does not matter, you can discover it around an aperitif at
Le Montbauron
and a
great pool game
.
Where ?
23 rue Jouvencel
When ?
Monday/Tuesday/Wednesday/Thursday/Friday from 11 am to 2 am
Saturday/Sunday from 2 pm to 1 am
Let's meet at this
wine shop, restaurant and wine bar Le Sept
. In this versatile place you can enjoy the warm atmosphere for lunch, a drink and spend an authentic moment. So you can eat, drink and buy bottles of your favourite wines. You will find no less than 150 different wines ! There will be no better way to improve your skills about the Beaujolais Nouveau !
Where ?
7 rue de Montreuil
When ?
from Tuesday to Saturday from 12h to 2 pm and from 6 pm till night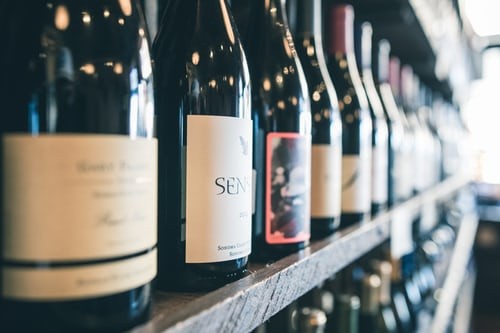 Wine stores in Versailles
Discover at the
Caves du Château
,
bottles of good wine from small producers
, organic wine and of course the Beaujolais Nouveau. We recommend you to go for the good advice that you will receive and the quality of the products.
Where ?
9 place Hoche
When ?
Tuesday/Wednesday/Thursday/Friday/Saturday/Sunday from 08:30 am to 7 pm
Monday from 09:30 am to 6 pm
Very close to the Palace of Versailles, discover a
selection of the best wines and champagnes
for you or to offer as a gift. Many boxes at all prices are also available. If you are overwhelmed, your
Cavavin
wine shop will be able to deliver you at home or at your place of work.
Where ?
86 rue de la Paroisse
When ?
from Tuesday to Friday from 10 am to 01:30 pm and from 03:30 to 07:30
Saturday from 10 am to 01:30 pm and 02:30 to 8 pm
Sunday from 09:30 am to 01 pm
If you love wine but you want to
improve your knowledge
, introduce yourself to
tasting
, there is nothing better during the season of the Beaujolais Nouveau than booking a class with a sommelier ! This will be possible with
Le Plaisir de Déguster
. You can take the course to please yourself but you can also offer it to someone as a present for Christmas. Classes are held at Campanile Buc Versailles.
The selection is personal and not exhaustive. There are of course many other bars and wine shops to visit in Versailles.

*Alcohol abuse is dangerous for your health, drink it with moderation
Article written by Adelaide
Published on Friday August 07, 2020 at 10:56