Top 7 most Instagramable photos in summer in Versailles
#summer #sun #summertime #bluesky #sunny #instasun #vacationtime #bluesky #warm #happiness
Between sunshine and holidays, summer is a season that gives good vibes and put a smile upon your face. With apetizers outside and tanning sessions at the park, everything will be possible this summer in Versailles. In order to prove it to you, I made you a small selection of photos of the most beautiful places of Versailles under the sun. Let's go !
Balbi Park
Between its river, its belvedere and its vast cave I promise you remarkable photos in the Park Balbi. You will be able to observe ducks, birds (not wild at all) and its protected vegetation. Located nextr to the King's Kitchen Garden you can kill two birds with one stone. Did you know that it was listed as an historical monument with the King's Kitchen Garden since 1926 ?
Saint-Louis Cathedral
The Saint-Louis Cathedral is a must see in any season! The advantage with summer season is that you can highlight the cathedral with the few palm trees of the square. The sun shining on its beautiful stones provides also an astonishing effect!
La Pièce d'eau des Suisses
For an exceptional walk and chill pictures at the edge of the water, la pièce d'eau des Suisses is one of my favorites! It was also built in order to underline the beauty of the perspective of the Palace. In addition of cool air near to the water, you will also find beautiful views there.
Bike ride in the city
In summer, rather than walking, I would recommend you to to rent a bike and to ride it through the city in order to get some fresh air. You will also be able to explore many beautiful places in the city and make as many photos as possible!

Public garden of the "Etangs Gobert"
Very close to the Versailles-Chantiers railway station, you will find this beautiful green park. With its refreshing fountains where the kids play in summer, its shaded bike paths and its belvedere with a breathtaking view of the Palace, it will allow you to take many pictures.
Park of Madame Elisabeth's estate
Here is a real princess house surrounded by a beautiful english romantic garden. You can wander in the park and imagine yourself in the shoes if Madame Elisabeth during an afternoon while you explore the area.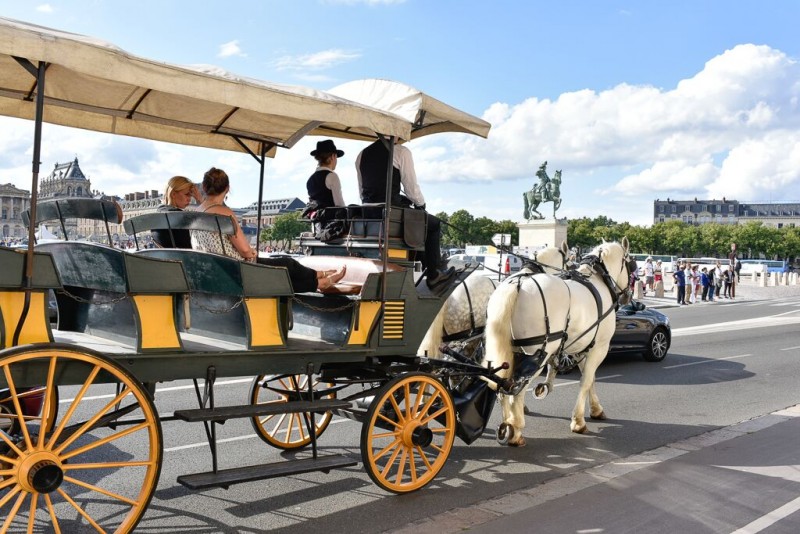 Carriage ride in Versailles
For horse lovers, the
carriage ride
is a bargain. In addition to cute horses, you can take the picture of the carriage which is gorgeous and original pictures once you started the visit. All the ingredients are gathered in order to take the most instagramable pictures!
Of course this is a personal selection and I truly recommend you to visit the city in order to create your own top !
Article written by Adélaïde
Published on Monday January 10, 2022 at 16:11